Mit Chiaro and the Elixir of Life steht ein neues VR-Adventure für Oculus Rift und HTC Vive bereit, welches dank einer Finanzspritze über Kickstarter zu Beginn des Jahres bereits jetzt erhältlich ist. Bei dieser Kampagne ging es nicht um den Startschuss für eine neue Idee, sondern um die Vollendung des in Entwicklung befindenden Titels. Wir haben uns mit unserem Robo-Pinguin Boka in das Abenteuer gestürzt und verraten euch im Test, ob sich die Investition von knapp 30 Euro auch wirklich lohnt.
Chiaro and the Elixir of Life im Test
Innerhalb des Spiels werdet ihr in eine Realität transferiert, in der Roboter durch ein Elixier zum Leben erweckt werden können. Da ihr dringend einen lebendigen Partner braucht, bastelt ihr euch aus Schrott einen Weggefährten zusammen, der auf den Namen Boka hört. Das Interagieren mit eurem Begleiter ist eine tolle Erfahrung, die aber leider an Clipping-Fehlern, einer schwammigen Fortbewegung von Boka und kleinen Ungenauigkeiten hapert.
So verliert der Pingu schnell seine magische Lebendigkeit, was der Immersion deutlich schadet. Dadurch wird euch stets aufs Auge gedrückt, dass es sich statt einer realen Welt nur um ein Spiel handelt. Dementsprechend konnten die Entwickler/innen bei mir auch keine emotionale Bindung zu Boka aufbauen, was ein eigentliches Kernelement des Spiels sein sollte. Zudem sind unsichtbare Wände, kollidierende Objekte und die geringe Lebendigkeit der Welt auch nicht unbedingt förderlich für die glaubhafte Illusion. Zwar gibt es auch Highlights, wie die Erschaffung von Portalen mit einem Ball und einem Zauberstab, aber dies zieht den Karren leider nicht mehr aus dem Dreck.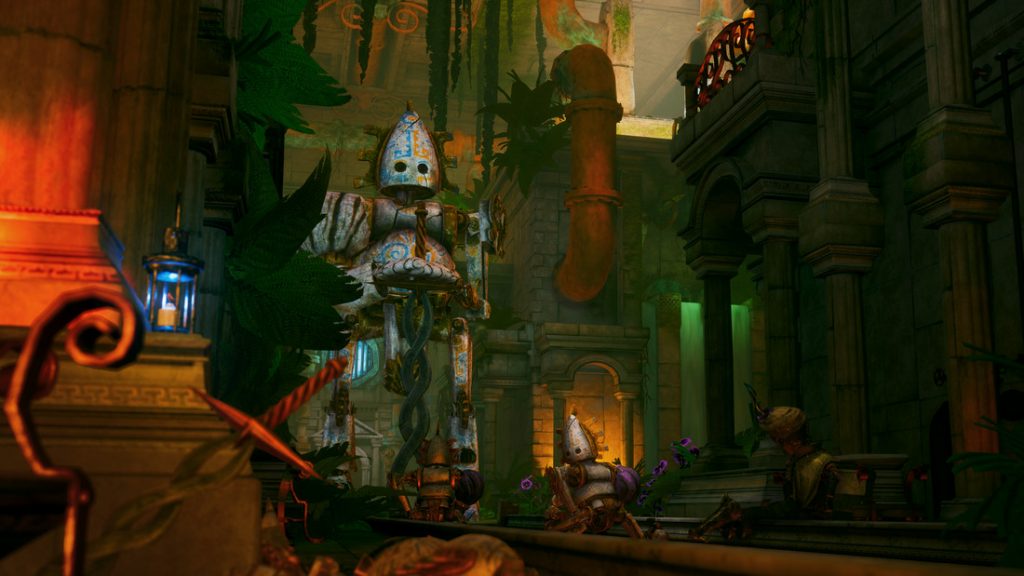 Spielerisch rätselt ihr euch von Station zu Station bis schließlich zur Fontäne des Elixiers des Lebens. Die meisten Rätsel sind jedoch sehr offensichtlich und dadurch auch schnell gelöst. Entsprechend dürften diese nicht einmal als Rätsel bezeichnet werden. Erhitze Punkt A, erhitze Punkt B und gehe zu Punkt C. Ein echtes Knobelgefühl entsteht dadurch nicht. Allerdings kommt zumindest auch keine Frustration auf. Zudem störte mich bei den Rätseln häufig, dass man sich vor gewisse Objekte teleportieren muss, da eine freie Bewegung per Stick noch nicht integriert ist. Einen komfortablen Spot zu finden, ist per Teleportation nicht immer einfach und störte den Spielfluss für mich immens. Jedoch versprechen die Devs Besserung: Zukünftig soll eine Option für die freie Bewegung durch die Welt integriert werden.
Die Inszenierung von Chiaro and the Elixir of Life halte ich generell für gelungen. Jedoch ist die Grafik bzw. die Auflösung nicht durchweg auf einem hohen Niveau. Dies sorgt dafür, dass die liebevoll gestaltete Welt an vielen Orten leider doch nicht zum geplanten Augenschmaus wird. Dafür macht die Sound-Kulisse jedoch einiges her und unterstreicht die Story hervorragend musikalisch.
Fazit
Chiaro and the Elixir of Life hat eine nette Geschichte zu erzählen. Der Ansatz sowie die Idee gefallen mir eigentlich sehr gut. Leider bleibt der VR-Titel spielerisch und optisch hinter seinen Möglichkeiten zurück. Für den aufgerufenen Preis hätte ich ein deutlich runderes Produkt erwartet. Aktuell wirkt das Spiel leider wie ein Konzept, in welches noch viel Arbeit fließen sollte.
Stark
Konzept
Boka als Freund und Helfer
Schwach
Unausgereiftes Gameplay
Schwache Optik
2.5 5